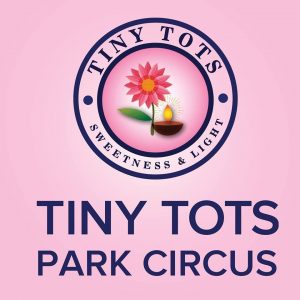 The Tiny Tots Nursery and K.G. School was founded on the 16th of July 1956 by Late Shri S. Majumder and his wife Late Shrimoti Amola Majumder, supported by the Late Shri N.C. Roy in the hope of creating a unique preparatory school for children made lively by their own sweet hum within an atmosphere of joy. Initiated with three little boys and three little girls, who brightened the garden of this house for children, this little world of joy gradually attracted more and more little children accentuating the already prominent atmosphere of joy and happiness interspersed with learning. The school has been helped and led by a noble lady, Late Shrimoti Ela Mitra, our beloved "Didibhai", who enlightened these buds to bloom into flowers and grow into ideal citizens through play and learning. She emphasized the need for virtues like truth, honesty, and noble deeds alongside education and grooming to ensure that children are not just better prepared for the next stage of education but also for all the next level of socialization where they can emerge as positive influences on others. It was "Didibhai" who showed the path the teachers have been following diligently and sincerely with dedication for the past 60 long years. The values, methods, and ways introduced by "Didibhai" will continue to be the guiding light that will enlighten the path the school will follow in the future.
We, as flag bearers of this great responsibility of laying the foundation stones for shaping better human beings, feel happy when the buds blossom like fragrant flowers and find most of them becoming well established in all variants of life.Doing good to the society is a giveback we all owe, but to be able to be a part of this mission is a huge satisfaction. With this hope in our hearts and with the vision and values of our great founders, and teachers, Tiny Tots Park Circus is starting afresh.
With its all years of experience, glory, and legacy, now being strengthened by a new management under the very noble guidance of Mr. Aniruddha Chowdhury & Mrs. Anindita Chowdhury of ACA Projects Pvt. Ltd., a sister concern of Chowdhury House, the garden now wishes to try and become a grove that can provide the same guidance to more and more children to become better prepared good human beings.
Taking a step further, Tiny Tots Park Circus is hoping to grow from Nursery school to High School along with a Teachers Training Centre and an all round activity centre for children.Let us all embark on this journey together and make a better world by nurturing the young buds, and grooming them to remain modest and humble in their success and glory.